Septic System Design
Designing the correct suitable septic system for your property starts with determining your requirements, evaluating your site and proper soil characterization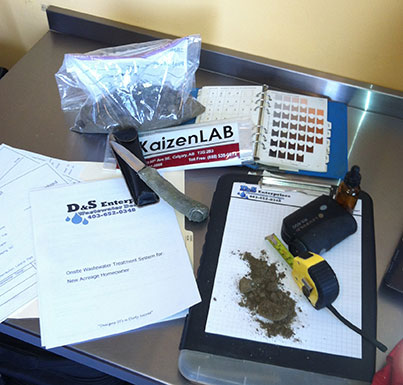 The Munsel Colour Chart determines the colour of the soil (Canadian Classification System)
D&S is committed to the environment and you can assured that your septic system will be designed to be as environmentally friendly as possible.
You can further be assured that we will only recommend installers with a reliable work history of ecologically sound development.
Septic system assessment
D&S Enterprises is a design developer of septic systems (onsite wastewater treatment systems) for all areas within Southern Alberta. The property owner should be involved in the design process as early as possible, to allow for more options for design and final placement of the system. To ensure we design the best system for your property we require the following information from you:
Information regarding the land (flat, sloping, wet, dry etc.), facility (number of bathrooms, kitchens, laundry facilities, bedrooms etc.), occupants (number of permanent & visiting)
Plot plan (survey plan), blueprints of the facility, address, contact information
Download Excel Form Online Form
Once you have obtained the information above we can meet to discuss and to review your site. From there we can proceed with the following:
Mandatory locates for all underground utilities through Alberta Onecall or through a private locator, The Utility Locators
Excavation + investigation of mandatory soil test pits
Collect soil samples from most limiting layer/horizon within the test pits
Soil samples are required to be sent to a certified lab in Calgary for texture by hydrometer testing
Gather all site and soil information including lab results of soil analysis to develop most cost effective onsite wastewater treatment system based on soil inventory at site
View information regarding different types of wastewater treatment systems
Design documentation provided and explained
The certified contractor of your choice can perform the installation of the septic system (as designed) or we can recommend specific certified installers whom we've worked with that we're confident will perform a quality installation for you.