Services for Certified Contractors
D&S is proud to work alongside certified septic system contractors to provide a quality onsite system for all of our clients
The design document provides...
Detailed design provides information about the soil inventory at the property.

Detailed schematics showing system layout and positioning on the property

List of components required

Blueprint of system

Information required to apply for an installation permit in counties and municipal districts in the province of Alberta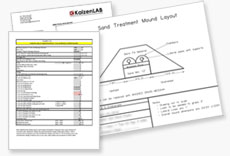 D&S Enterprises is a design developer of onsite wastewater treatment systems for all areas within Southern Alberta. We are more than happy to meet with you and/or your client to discuss specific requirements, perform soil testing and analysis and then supply the design documentation for the system. Our site and soil evaluations are what determine the type of septic system that will work best for the property. Level I and II site assessments following the Model Process Document for Subdivision Approval and Private Sewage are also within our scope of work
The design document will provide clear, simple drawings that provide the most effective and affordable solution for the landowner and installer alike. We offer full technical support regarding any aspect of the specifications and welcome any queries you may have. If required, we can meet with the client after the design documentation is provided in order to explain the specific system design. Managing inspection agencies and permitting inquiries are further services that can be provided.
When D&S is the first point of call for the landowner, one of the key benefits we can offer you is the ability to provide an "apples to apples" quote. Once we provide the design documentation to the landowner then you will have the benefit, if in competition with other installers, of quoting on the same system. This ensures installers quoting on less expensive and/or inferior systems won't price you out.
D&S has over 25 years of experience in the design and installation of wastewater treatment systems and is committed to providing exceptional customer service and effective septic system solutions.