Services for Landowners
Obtain "apples to apples" pricing on a septic system that you can feel confident on to meet your needs
The design document provides...
Detailed design provides information about the soil inventory at the property.

Detailed schematics showing system layout and positioning on the property

List of components required

Blueprint of system

Information required to apply for an installation permit in counties and municipal districts in the province of Alberta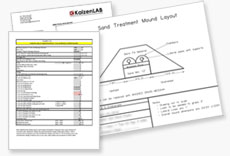 Once the design document is purchased from D&S Enterprises it can be used to obtain necessary installation quotes and permits for the property it was intended for. The septic system design can now be sent out to numerous installation contractors to obtain quotes for the installation of the designed system. The installer must be certified and quote on the exact design. Any required design alterations are to be completed by D&S Enterprises. As the certified installers bid on the same design, you will be receiving "apples to apples" quotes on a system that has been specifically designed from the projected wastewater flows your facility and the site and soil conditions specific to your property.
If you are subdividing your property, Level I and II site assessments, following the Model Process Document for Subdivision Approval and Private Sewage, are within our scope of work.
D&S Enterprises is very proud of the relationships we've built with reputable septic system contractors over our 25 years in business. When we recommend certified contractors in your area you can feel confident that we are referring you to skilled companies who have a reputation for good customer service, quality workmanship and who will install your septic system to the exact specifications set out in your design document.
D&S has over 25 years of experience in the design and installation of wastewater treatment systems and is committed to providing exceptional customer service and effective septic system solutions.